Gazebos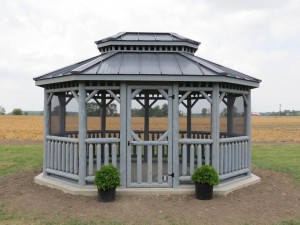 Ready to invest in a gazebo? Our professionals are available to assist you in creating the perfect gazebo for your landscape project. We have years of experience in designing and building a wide variety of gazebos. Whether you need a structure for a public space or your private venue; our staff is here to help. Whatever your needs, we'll use quality materials to make sure your gazebo remains beautiful through the changing seasons.
Low Maintenance Vinyl Gazebos
When you think of vinyl gazebos, think low maintenance. Vinyl gazebos give you a clean and crisp appearance. Our gazebos are manufactured using virgin vinyl instead of taking an old vinyl and simply regrinding it. This means your vinyl gazebo is built for superior weather ability, color stability, strength and flexibility along with structural strength. Our vinyl gazebos will not warp or crack when exposed to long term hot or cold weather. Our vinyl gazebos also have a floor system that is "the best on the market." Come check them out for yourself.
Naturally Beautiful Western Cedar Gazebos
Cedar gazebos by Mt Hope Fence are weather resistant and have a more natural look. Cedar wood will not warp or crack when exposed to the heat of summer or the cold of winter. Unlike oak or pine, cedar absorbs and loses moisture slowly, which is the reason that it does not crack or warp.
Cedar is also naturally resistant to bacteria and fungus. Its distinct fragrance is pleasant to humans and deters insects, moths and other wood pests. To maintain your cedar gazebo's natural beauty, it is best to stain it with a wood sealer.
Call us at (440) 937-4468 to learn more about the different models of gazebos we offer.