Pavilions
Vinyl Pavilion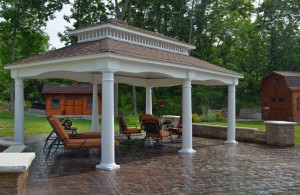 When you choose a vinyl pavilion, maintenance becomes a worry-free proposition. Durable and beautiful, vinyl requires very little attention.
The Ease of Maintenance-Free Vinyl
Regular cleaning with a mild dish detergent or similar product is normally all that's required to keep your pavilion looking its best.
---
Wood Pavilion
Made from hand-selected top-grade southern yellow pine, our wood pavilions come in several finish choices: natural/unstained, clear sealer, two colored stains, and two paint colors.
The Beauty of Natural Wood
The richness and warmth of wood creates a powerful connection between your backyard setting and the natural world.
Pressure treated to resist decay.
Harvested in the USA
Air-dried after treatment for enhanced durability
Milled to exact specifications
Let us help you customize the right pavilion for you. Call us at (440) 937-4468.